Why Do People Live Here?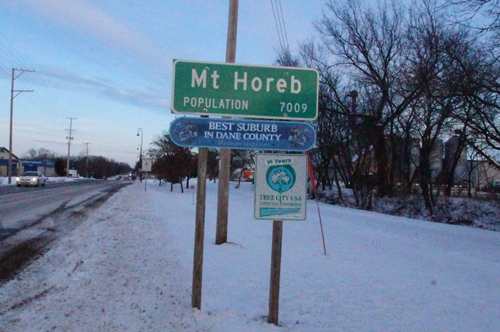 Even though Mt. Horeb is small in size, plenty of recreation and entertainment is found throughout. Many are drawn to the area for the one spaces and country atmosphere. Homes come in a variety of styles throughout the area with many dating back to the early 20th century, while others are modern and new.
Mt. Horeb was founded by Norwegians in the early 1800s and became known as the "Troll Capital of the World" because of the carved wooden statues found along Main Street, which has been nicknamed "The Trollway." It's a tight knit community with friendly neighbors and plenty to offer those looking to relocate to the Madison, WI area.
One of the main reasons people live in Mt. Horeb is the affordable real estate. Many classic homes and new construction homes are priced under $200K within the area. Even home buyers looking to buy a home with some land will find what they're looking for in Mt. Horeb. Acreage and buildable lots are found all throughout the area with plenty of open spaces to enjoy.
What Does the Neighborhood Look Like?
Plenty of beautiful scenery surrounds Mt. Horeb and provides a great background for the many parks found throughout. Blue Mound State Park is one of the most popular and includes the highest point in Southern Wisconsin. The Military Ridge State Trail also runs through the area and Mt. Horeb is home to many county parks including Stewart, Brigham and Donald County Parks. Steward County Park includes a spring-fed lake with excellent bass and trout fishing.
Another attraction providing beautiful scenery in Mt. Horeb is the Cave of the Mounds, which is a natural landmark. It's a popular place for exploring and education. In addition, the village offers ice skating rinks, an aquatic center, Tyrol Basin for skiing and golfing at Deer Valley Lodge.
The downtown area includes many restored buildings and a number of Victorian Homes. It's full of boutique shopping options and restaurants including local bistros and an independent book store.
What's Going on Nearby?
Mt. Horeb is located just 15 minutes to the west of Verona. It's right off US Highway 151, which provides easy access to many of the best area attractions. The community is surrounded by Pine Bluff, Mt. Vernon, Primrose, Verona, Five Points and it's not far from Middleton.
Where Will My Kids Go To School?
Mount Horeb has its own school district called the Mount Horeb Area School District. Students attend four different schools including:
Mount Horeb Primary Center
Mount Horeb Intermediate School
Mount Horeb Middle School
Mount Horeb High School
For information about finding a home in the Mt. Horeb or to sell your Mt. Horeb home, contact our team for a better real estate experience.