Where to go Snowshoeing in Madison, WI?
Posted by Benjamin Ehinger on Thursday, November 12, 2020 at 2:58 PM
By Benjamin Ehinger / November 12, 2020
Comment
As the snow starts falling and you start thinking about snowshoeing in Madison, it's time to figure out where to go. There are a ton of great places to for your snowshoeing adventures in and around Madison, WI.
Snowshoeing offers a great way to get exercise and to enjoy the outdoors during the winter in Madison. Let's look at some of the top spots for snowshoeing throughout the area.
Top 6 Spots for Snowshoeing in Madison, WI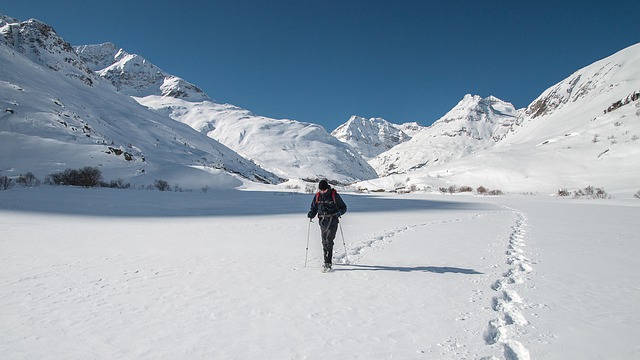 1. Elver Park
Covering 227 acres of land, Elver Park is one of the top spots for snowshoeing in Madison. You can walk alongside the lighted ski trails and enjoy plenty of fun on the snow here.
Elver Park has a shelter with snowshoe rentals you can pick up, as well. The cost is $5 per hour for adults and $2 per hour for Youth. Additional hours are $2 each.
2. Frozen Creeks
Madison is also home to several lakes, which provide plenty of creeks between them. You can enjoy snowshoeing on any of the frozen creeks from Lake Waubesa to Lake Monona and to Lake Wingra. In fact, Wingra Creek is one of the most popular options.
3. Indian Lake County Park
Another popular park near Madison for snowshoeing, Indian Lake County Park covers about 483 acres of land. They offer cross-country skiing and sledding, as well. There is a warming house you can use and you can enjoy the Ice Age National Scenic Trail throughout the park.
4. Speckled Hen Inn
If you stay at the Speckled Hen Inn, which is a Bed and Breakfast in Madison, you can enjoy snowshoeing throughout the trails on their property. They will even allow you to borrow snowshoes to enjoy some time outside.
The property includes plenty of acreage and the Starkweather Creek. As you snowshoe throughout the area, you might spot wildlife, such as deer, fox, and mink.
5. Cherokee Marsh
The Northern Unit of Cherokee Marsh in Dane County is a great spot for snowshoeing. It's a large natural area with many long trails to enjoy. If you're looking for a less crowded place to go, this might be the perfect choice for you.
6. UW Arboretum
The UW Arboretum offers a great option, as well, with 1,260 acres of land. You can enjoy snowshoeing throughout the area and taking in the incredible winter view.
Many people enjoy the arboretum every single year and many come in the winter during the snowshoeing season. You can't beat the amazing views and there are plenty of miles of trails to enjoy all throughout.
A few more places to enjoy snowshoeing in Madison include:
Door Creek Park
Edna Taylor Conservation Park
Garner Park
Heritage Prairie
Hoyt Park
Heritage Sanctuary
Indian Springs Park
Prairie Ridge Conservation Park
Warner Park
There are many places to enjoy snowshoeing throughout Madison, WI. If you're looking to get out for the first time or you've been snowshoeing all your life, you have plenty of options throughout the area.