Where to Go for a Cozy Date in Madison This Winter
Posted by Benjamin Ehinger on Tuesday, November 22, 2022 at 4:18 PM
By Benjamin Ehinger / November 22, 2022
Comment
Yes, winter is almost here and Madison is about to get super cold and snowy. While this might not be your favorite time of year, it's the perfect time for a cozy date. Sometimes, when the cold comes in, you can get excited to get out the sweaters and hit the coziest spots in the city!
There are plenty of great places to enjoy dinner out or even brunch throughout Madison. When winter hits, this doesn't change. Let's look at some of the best cozy spots for a date this winter in Madison.
Top 4 Spots for a Winter Date in Madison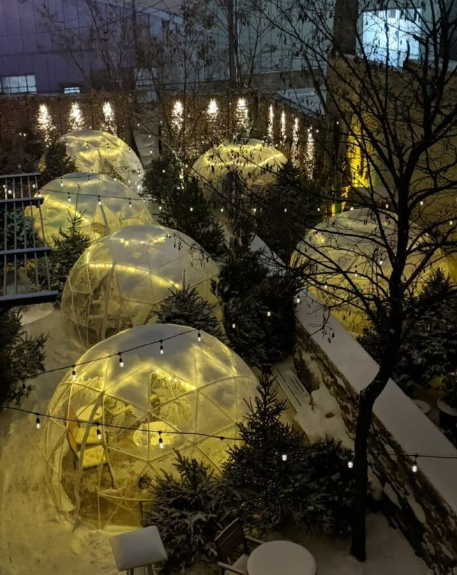 1. Cafe Hollander
Have you seen the domes at Cafe Hollander? They have heated Dutch domes you can reserve for $100 and enjoy an incredible experience. If you split the cost with other couples, it can become a very affordable way to enjoy a great experience.
These domes seat up to 8 people and you get a complimentary drink package to go with it. You can also preorder additional drink packages or order off the regular menu during your reservation. You will get 90 minutes in your private, heated globe at Cafe Hollander.
2. Nineteen09
Another spot with unique domes you can enjoy for a cozy date is Nineteen09. This spot is found in Cross Plains and they have three heated garden globes you can rent for $75. The dome will hold up to 8 guests and you get a two-hour reservation.
Enjoy plenty of wine, drinks, and snacks from the regular menu or bring in your own food, too. If you want to take the entire family for your cozy date night, you can get a family-friendly weekend package for just $50. This package will include hot chocolate and cider drinks.
3. Brix Cider
A cidery found in Mount Horeb, Brix Cidery offers ice shanties for a cozy dining option during the winter. You can enjoy farm-to-table sandwiches, snacks, and burgers here, along with plenty of ciders. Each shanty comes with an electric space heater and they are offered on a first-come, first-serve basis.
4. Robinia Courtyard
Enjoy one of the coziest spots you will find with the domes in the Robinia Courtyard. They have decorated for the winter with string lights and the pine trees help turn the courtyard into a winter wonderland.
A group of eight can enjoy these heated domes for 90 minutes for the cost of $200. Your reservation will include a round of hog beverages (alcoholic or non-alcoholic) and a keepsake mug with each beverage. Every reservation also results in a donation to a nonprofit partner. Of course, additional drinks and food are available, too.
There are a few other great spots to enjoy dome dining and a cozy date. If you're looking for something unique for a date night or a night out with friends, these are some of the best choices to consider for this winter season.