Unique Places to Read and Sip Wine in Madison
Posted by Benjamin Ehinger on Tuesday, August 24, 2021 at 6:19 PM
By Benjamin Ehinger / August 24, 2021
Comment
If you love bars and bookstores then you will want to visit Leopold's for a unique glass of wine and a good book in Madison. If wine is not your style, then do not fear. They offer eclectic, international cocktails and craft beer for you to sip on while delving into the book of your choice.
While deciding which drink to order at the custom-made marble-topped bar, be sure to admire the restored 1920's art deco salvaged from a Milwaukee bar displayed in the backdrop. Along with their special drink in your hand, you can enjoy one of their many books of all genres, displayed by country of origin.
The Library of Books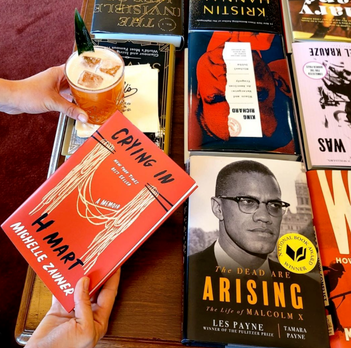 The books at Leopold's are thoughtfully arranged and curated by country. Whether you are well-traveled or enjoy armchair tourism you will be able to find a book of all genres to fit your needs. On their bookshelves, you will find history, fiction, cooking, and travel selections to choose from.
If there is a particular book that you are looking for and cannot find in the store then you have the option to order from a large online selection. By using Bookshop.org you will still be supporting Leopold's.
The Atmosphere
Leopold's has a very relaxed atmosphere and is located near the University of Wisconsin-Madison. There are also other nearby campus spots such as Camp Randall Stadium to occupy your day or night.
Pick your favorite book and beverage and nestle into a spot at the outdoor patio. They keep this patio well-lit in the evening so that you can continue reading and sipping while listening to the occasional live music.
The Coffee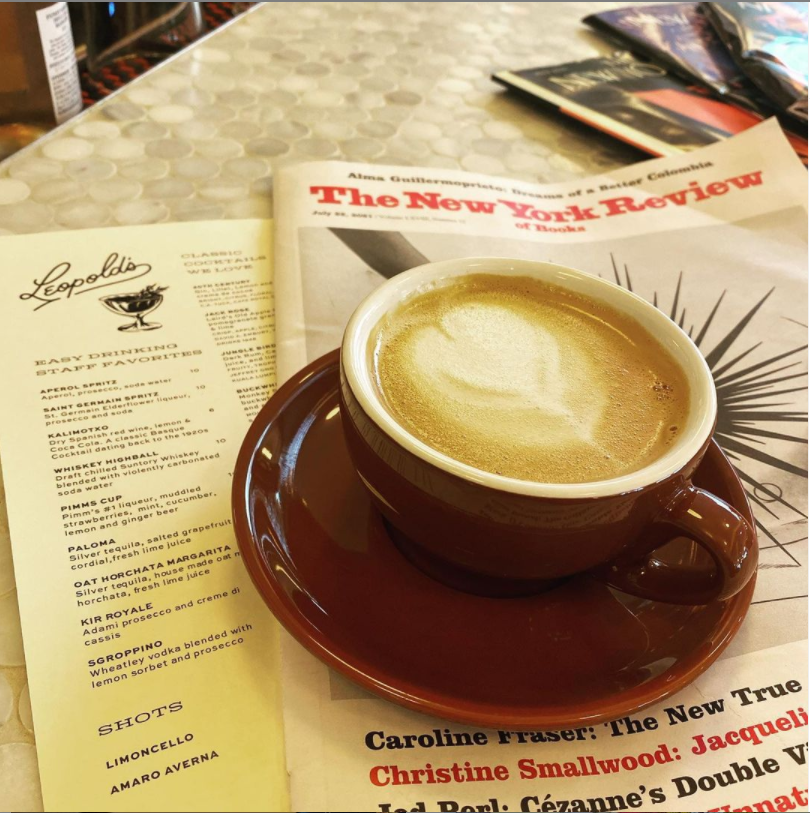 If you are in need of some caffeine, Leopold's boasts their imported, vintage Elektra Espresso Machine. Italian-inspired drinks are made to order by the Barista. The Elektra is imported from Italy and is an extremely impressive machine to look at and watch as it is one of only 70 of this model in the world.
Leopold's is proud to serve a variety of locally owned and national award-winning JBC Coffees and expresso. Along with JBC Coffee, they serve Vietnamese iced coffee from Nguyen Coffee Supply out of Brooklyn, NY.
Discover a new adventure within each turn of the page. Whether you are learning to cook a French souffle, hiking in the rugged mountains of Greece, learning details about World War II, or traveling to some magical faraway land, you have found the perfect spot to retreat and enjoy a glass of wine, craft beer, exquisite cocktail or glass of coffee.
"A book is a gift you can open again and again." Garrison Keillor
If you are looking for an interesting and relaxing venue for your next event for work, friends or family then contact Leopold's at info@leopoldsmadison.com.
Be sure to visit Leopold's Tuesday-Sunday 10 am-Midnight for a unique and relaxing experience.
Leopold's is closed on Football Saturdays
Live Music on the Patio:
September 23rd, 2021 - Old Oaks Trio 6-8 pm
October 1st, 2021 - Bad Mustard Jazz 6-8 pm