Real Estate Technology Spotlight: Virtual Staging
Posted by Benjamin Ehinger on Thursday, April 2, 2020 at 9:27 AM
By Benjamin Ehinger / April 2, 2020
Comment
A normal home listing may include hiring a professional stager to bring in furniture, decorations, and other items to make your home look amazing for the listing pictures and in-person showings. The current pandemic has caused many home sellers to look for real estate technology to stage their homes without having someone come in to do it for them.
Virtual staging was available before COVID-19 took over, and has only grown due to the virus. With the ability to stage your home without hiring someone to bring in furniture, many sellers are turning to virtual staging to make their listings stand out.
This is just another type of real estate technology making it possible to list your home for sale, even during a stay-at-home order. As a seller, you need to stand out and virtual staging can help you stand above the competition.
Pros & Cons of Virtual Staging for Home Sellers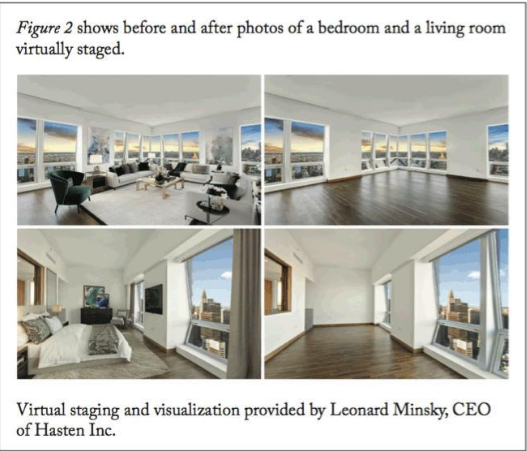 Image Credit: TatteyD / CC BY-SA
While virtual staging may be the best option right now, it has both pros and cons. Let's look at the pros and the cons of virtual staging to help gain a better understanding of how this real estate technology benefits home sellers.
Pros of Virtual Staging
Inexpensive - Compared to hiring a professional stager, virtual staging is much more cost-effective. A regular stager may cost $500+ per room, but with virtual staging, you pay a much lower fee.
Great for Empty Properties - If you're not living in the home you're trying to sell, virtual staging offers an excellent way to make the home look more inviting online.
Helps Buyers Picture Themselves in the Home - Just like traditional staging, virtual staging allows buyers to easily picture themselves living in the home.
More flexibility - Changing out the furniture for a specific season of the year is expensive and labor-intensive with traditional staging. Virtual staging makes it much easier and cheaper to change out furniture or adjust the look of a specific room.
Easier to Stage for Specific Buyers - Typically, you have to hire a professional stager or work with what you have. With virtual staging, you can stage for specific types of buyers with ease.
Not as easy to use if the room isn't empty - Virtual staging is much easier with a picture of an empty room. If the room isn't empty, the things in the room will first have to be removed from the picture.
Won't impact in-person showings - Since the staging is done virtually, it won't have any impact on an in-person showing.
Cons of Virtual Staging
It's important to make sure virtual staging is disclosed to any potential buyer so they don't feel mislead. However, as long as it's tastefully done and disclosed, virtual staging provides many benefits including the ability to sell your home faster.
With the way things are currently, virtual staging and other types of real estate technology, such as 3D virtual home tours and digital home closings have become necessary. If you're trying to sell your home, the help of virtual staging may be just what you need to provide excellent online listing pictures.