Outdoor Dining in Madison is a Perfect Fit for Fall/Winter 2020
Posted by Benjamin Ehinger on Friday, November 20, 2020 at 10:55 AM
By Benjamin Ehinger / November 20, 2020
Comment
Do you want to enjoy a dinner night out with family but don't want to branch outside of your quarantine circle? Madison restaurants are offering outdoor, heated dome seating for dining-in this year.
These "bubbly" dining areas allow for families and small groups to enjoy a dinner out together while providing a safe and healthy environment! Gather your quarantine circle and head to Madison to check some of these out.
ZUZU CAFÉ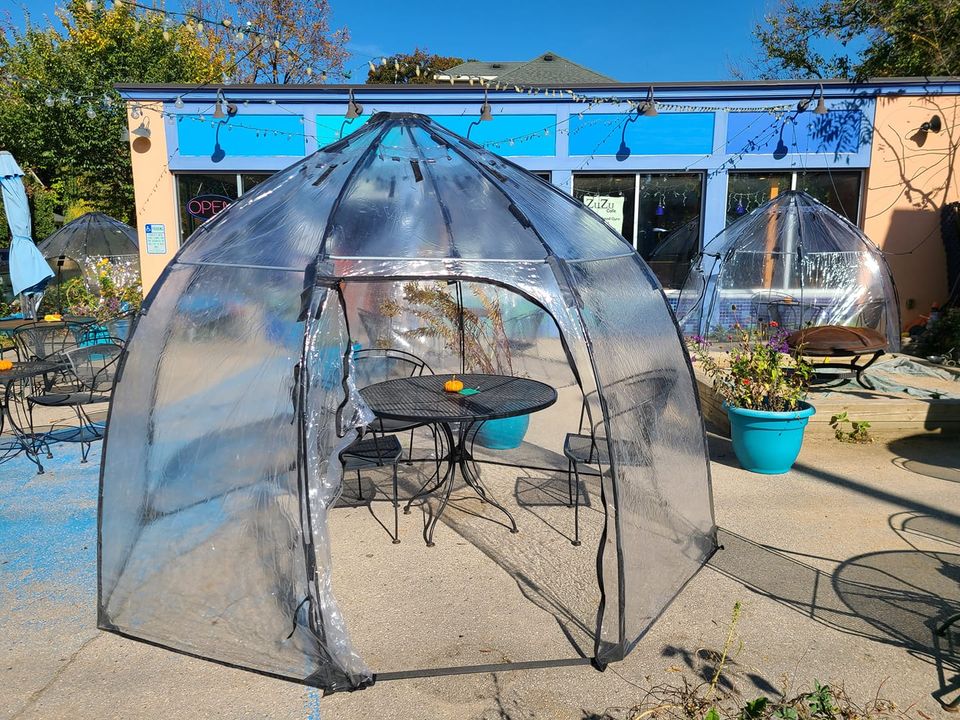 Image credit: Zuzu Cafe Facebook Page
With no reservations required, this Mediterranean-style café offers a variety of menu options that are perfect for families. They offer multiple sandwiches along with gyros, rice dishes, and many other Mediterranean staples – they also serve coffee, bakery items, and wine. Being close to the Henry Vilas Zoo, this location is perfect for families!
Check out their Facebook Page for more information
ROBINIA COURTYARD
Robinia Courtyard pulled out all the stops for 2020, turning their patio seating into a winter wonderland with string lights and igloo-style seating. Reservations and dining packages will be available soon, so look out for your opportunity to reserve a heated igloo for up to 8 people in your party! They will be serving holiday beverages, spiked hot chocolate, snacks, charcuterie plates, etc.
Check out this link to their website for more information.
NINETEEN 09
The Cross Plains wine bar at Nineteen 09 has a $75 deal to reserve and rent a three heated garden globes. In this reservation, you can bring up to 8 people to spend a maximum of 2 hours.
The Cross Plains offers two different reservations: Regular week-day rentals for $75 with a menu of drinks, wine, and snacks and the $50 family-friendly weekend rental, which includes hot chocolate and hot cider.
Check out this link for rental and reservation information.
Restaurants with Heated Seating
Maybe the dome seating isn't for you. If that's the case, check out these Madison dining areas with other heated seating options! Ever wondered why Madison is considered a foodie paradise?
Madison is home to the largest producer-only farmers' market in the entire country, award-winning chefs, healthy and handpicked, local ingredients, and more! Check out the following restaurants that showcase these amazing Madison experiences.
CAFÉ HOLLANDER
This European-style café offers all three meals, breakfast, lunch, and dinner, and an incredible selection of craft and traditional Belgian beers. This dining experience is accompanied by heated outdoor patio dining, incredible bloody marys, and unique decoration. With this outdoor dining and curbside pick-up available, Café Hollander is open for business!
Check out this link to their website to find out more information.
EVERLY
Everly is a comfortable, quirky, and casual family restaurant that is located on Monroe Street. This eatery is full of life, including an indoor/outdoor bar and a spacious outdoor seating area. With lunch, dinner, and weekend brunch along with coffee, tea, and cocktails, Everly creates a family-friendly environment that is inviting for all different types of crowds!
Check out this link to their website for more information.