As many people do this time of year, I have reflected back on the past year of 2012. It's been an interesting and good year as the housing market and overall economy continue to improve. When I think back to my highlights for the past year, here's what comes to mind.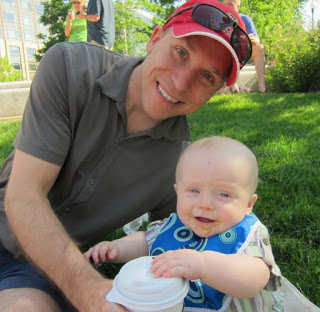 Kids are awesome! My first son, Tyler, was born in October of 2011. As you can imagine, my life was forever changed when this cute little kid entered our world. I'm continually amazed at how much he has grown and how quickly he has changed. And his smile is super awesome! Luckily many of my good friends also have new kids and I look forward to seeing them grow together.
A new truck. As an added benefit for being one of my clients, you will now have access to a free moving truck when you buy, sell, or invest in real estate using my services. The comments I have received from many of my friends, family, and clients is, "that's a great idea." I think so too.
House Hunters on HGTV. Earlier this year I had the opportunity to be filmed with my clients Darren and Megan, for an upcoming episode of House Hunters. I thought this was a unique opportunity and I look forward to seeing the final "cut" episode sometime in early 2013.
A new house. Typically I'm out helping other people buy and sell houses. This year, it was my own turn as Jenna and I decided that it was time for a new (larger) home. Like many similar couples, Jenna and I had different wish list items for our new home that weren't always 100% compatible given our budget constraints. Luckily we found a good fit and we're unpacking this week. Yikes! It's a lot more work than I remember.
House Hunters...again! After I finished filming for my first episode of house hunters, I was chatting with one of the producers and they said that I was great to work with, and to keep them in mind...