Madison-Area Lake Spotlight: Lake Monona
Posted by Benjamin Ehinger on Friday, June 25, 2021 at 4:51 PM
By Benjamin Ehinger / June 25, 2021
Comment
Living in the Lake Monona area provides residents with a unique opportunity. This is one of the top lakes in the Madison, Wisconsin area for real estate, dining, and so much more. Whether you want to spend time on the lake fishing, you want to go for a swim, or you just want to enjoy the beautiful views, there are plenty of things to love about Lake Monona.
Lake Monona Stats
Lake Monona covers a total of 3,359 acres and has a maximum depth of 74 feet. The bottom is made up of sand, gravel, much and rock. It's found in Dane County and offers a popular place for boating, enjoying the beach, fishing, and more.
Types of Fish Found in Lake Monona
If you're interested in fishing, it's always a good idea to know what type of fishing you might find in Lake Monona. This lake is known for its abundance of panfish. Along with panfish, it's common to catch largemouth bass, walleye, and northern pike here.
While these fish are the most common, you might also catch musky, smallmouth bass, sturgeon, and catfish. All are found within Lake Monona and with the right bait and some luck, you might catch any of these types of fish.
Restaurants on Lake Monona
If you want to enjoy waterfront dining, Lake Monona offers plenty of it. There are several great restaurants found on the lake including:
Elk's Club (Members only)
Buck and Honey's
Breakwater
The Waypoint
East Side Club
The variety of dining options offers plenty of great options to enjoy if you want to head out for a date night or enjoy a meal with your friends. There are even some options for a few late-night cocktails found on the lake.
Swimming in Lake Monona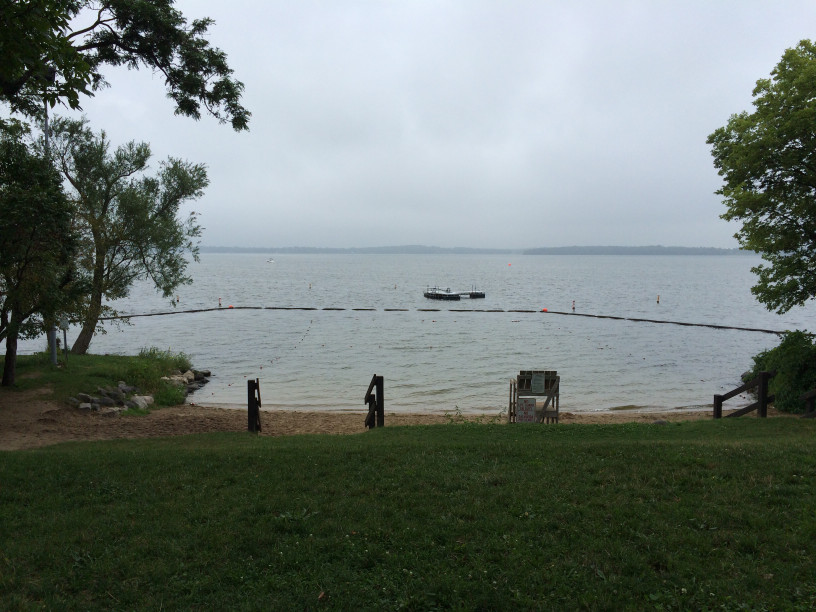 Do you want to take the family for a swim? There are plenty of great areas to swim in Lake Monona. The lake offers B.B. Clarke, which is one of the most popular options. It's very close to the Marquette neighborhood and downtown.
Esther Beach is another good option. This beach area isn't as busy as B.B. Clarke and offers some excellent views. You can see Monona Terrace and downtown from Esther Beach
If you take a boat out on the lake, you can do some swimming on the east end. head to the area near Monona Drive near the San Damiano Friary and you will find some areas for swimming.
Olbrich Park offers another popular place to swim in Lake Monona. It's known for the beach and also offers a beer garden, boat launch, and basketball courts.
Boating on Lake Monona
You can launch your boat from Olbrich Park, which is the largest park along the lake. It's also possible to launch your boat from Olin Park. Both parks offer popular boat launches for those looking to get out on Lake Monona.
Lake Monona offers many options for enjoying boating on the lake. You can head out fishing or pull water skiers behind you. Tubing and many other activities are also allowed on the lake.
Why Choose Lake Monona?
The Madison area is known for its many excellent lakes. Lake Monona is usually a bit calmer and not as busy as the larger lakes in the area. You can also catch some incredible views of Monona Terrace and the Capitol from here.
If you head to Wyldhaven Park in Monona, you can check out a beautiful sunset over the lake. Whether you head out during the day or at night, Lake Monona won't disappoint. It's a natural beauty found in the Madison area and has plenty to offer.
You can even buy a house on Lake Monona or near the lake to enjoy it regularly. If you love the idea of lake life, living on the lake might be a perfect choice. Check out the Clean Lakes Alliance
Best of Wisconsin Homes Community Spotlight - Madison Wisconsin In today's episode of the best of Wisconsin homes community spotlight, we have Adam Sodersten talk about Clean Lakes Alliance. Clean Lakes Alliance is a non-profit organization with its main goal is to protect the 5 big lakes. Because the lake is the center of the community - Mendota, with almost 26 miles of shoreline, Mendota is the largest lake in the area and the eighth largest in all of Wisconsin. - Lake Monona - Lake Waubesa - Lake Wing