Looking back - a year in review in 2012
Posted by Benjamin Ehinger on Monday, December 31, 2012 at 9:17 PM
By Benjamin Ehinger / December 31, 2012
Comment
As many people do this time of year, I have reflected back on the past year of 2012. It's been an interesting and good year as the housing market and overall economy continue to improve. When I think back to my highlights for the past year, here's what comes to mind.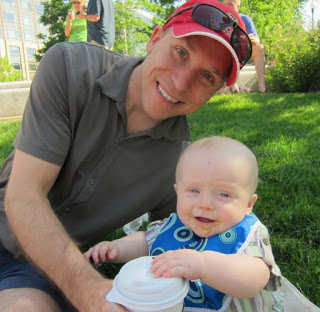 Kids are awesome! My first son, Tyler, was born in October of 2011. As you can imagine, my life was forever changed when this cute little kid entered our world. I'm continually amazed at how much he has grown and how quickly he has changed. And his smile is super awesome! Luckily many of my good friends also have new kids and I look forward to seeing them grow together.
A new truck. As an added benefit for being one of my clients, you will now have access to a free moving truck when you buy, sell, or invest in real estate using my services. The comments I have received from many of my friends, family, and clients is, "that's a great idea." I think so too.
House Hunters on HGTV. Earlier this year I had the opportunity to be filmed with my clients Darren and Megan, for an upcoming episode of House Hunters. I thought this was a unique opportunity and I look forward to seeing the final "cut" episode sometime in early 2013.
A new house. Typically I'm out helping other people buy and sell houses. This year, it was my own turn as Jenna and I decided that it was time for a new (larger) home. Like many similar couples, Jenna and I had different wish list items for our new home that weren't always 100% compatible given our budget constraints. Luckily we found a good fit and we're unpacking this week. Yikes! It's a lot more work than I remember.
House Hunters...again! After I finished filming for my first episode of house hunters, I was chatting with one of the producers and they said that I was great to work with, and to keep them in mind again in case I have any other interesting clients that might be good personalities for a show. I just happened to mention that Jenna and I were out looking for a home... and now we're in the middle of filming for another episode of House Hunters. This time, with a little twist since I'm both the Realtor and the buyer. I believe that it will air sometime in the Spring/Summer of 2013.
MBA is almost done. I'm currently in my last year of graduate school at the University of Wisconsin. My degree is a masters in business administration. I started this journey in September of 2010 and May 2013 will be graduation time. Some of my favorites this year were our "International Trip" to Brazil and my "negotiations" class (very helpful). This year our program was ranked #21 by US News and World Report.
A sold condo. Earlier this year we sold a condo that my wife purchased in 2005. Like many others, she didn't see the looming housing crash. This year, we took our lumps and sold it for about 30% less than the original purchase price. Ouch! As I often say to my clients, "I can't control the market, I can only interpret it." Since we really wanted to sell, we were willing to take much less than we wanted. While it was a painful loss, we are now in a much better place not having this property anymore.
Business is up. In 2011, I sold 26 homes. In 2012, I sold 31 homes. Woohoo! I'm very grateful to be succeeding in real estate during a challenging market. I couldn't have done this without the wonderful support of my wife, great friends, incredible family, and amazing co-workers at Keller Williams Realty. This is a great company to be in business with and I'm looking forward to 2013.
God bless and good luck to you as well!
best,
Josh Lavik