How to Build a Backyard Fire Pit
Posted by Benjamin Ehinger on Tuesday, April 18, 2023 at 10:59 PM
By Benjamin Ehinger / April 18, 2023
Comment
Building a backyard fire pit can be an enjoyable way to experience the warm glow and warmth of an authentic fire. But before embarking on this endeavor, it's crucial that you understand any laws or ordinances regarding open flames in your region.
Be sure to choose a spot in your yard that's free from flammable structures like bushes or trees; this will prevent smoke from creeping into your home.
Gather all the Materials & Tools
Building a backyard fire pit can be an engaging DIY project that adds tremendous value to your home. There are various materials you can use - from basic patio blocks to more intricate concrete blocks - when creating one.
No matter the material of choice for your fire pit, its stability, and safety requires a firm foundation. To build one in your yard, dig a hole and pour down an ample layer of gravel - this should provide sufficient support.
Create a Circle in Your Yard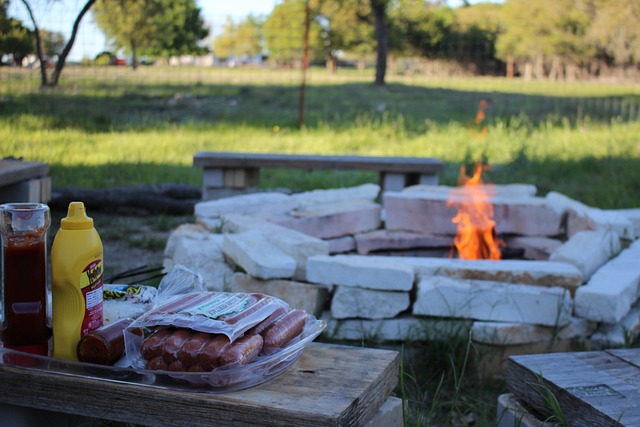 When it comes to designing an eye-catching fire pit design for your backyard, the first step should be defining the location. Place a stake at the center of where you intend to construct the pit and use a marking pen tied with string to draw a circle around it.
Aim for a circle with an outer diameter slightly greater than that of the fire pit you intend to construct, to allow enough room for seating around it - an essential feature if you plan to enjoy your new fire pit with friends or family members.
Remove the Grass from the Circle
The next step in building your new fire pit involves clearing away grass from its circle. An effective and straightforward method is to cover it with newspaper before spreading compost over it all; this will keep the grass out of sight while preventing shifting over time.
Make Sure the Circle is Level
When installing a fire pit in your yard, it's essential that the circle be level; otherwise, bricks or pavers may shift and cause them to topple over. This will protect against shifting that could potentially result in disaster.
One way to ensure the circle is level is with a tape measure. Simply set up your tape measure so it pivots around a screw in the center of where you want your circle to be and use this method of measurement.
Add Gravel
When creating a fire pit in your backyard, make sure to include gravel as part of its design. This will help maintain an even surface and contain the fire in its entirety.
To do this, simply cover your circle with a layer of gravel and sand to form an even surface for the bricks or pavers you plan on using as part of your fire pit. This will also act as a firm foundation.
Once your circle has been filled with sand, use a flat-ended shovel to pack it down until the surface is level and prepare your soil for adding pea gravel on top of that layer.
Arrange your Bricks or Pavers
If you want to give your new fire pit an appealing appearance, arrange bricks or pavers into an eye-catching pattern. This will result in an eye-catching design without excessive costs for implementation.
Once you have planned out how you want your bricks or pavers arranged, begin by clearing away the area around the circle. This will ensure that the fire pit fits comfortably within it and is safe to use.
Begin laying out your blocks. Lay a row of bricks end to end and angle them slightly so they form a circle around the rim of your fire pit bowl. After building this initial layer, use a level to ensure everything is even; add leveling sand beneath uneven blocks as needed and tap them with a rubber mallet until everything has settled in its place.
Enjoy Your New Firepit
Sitting around your backyard fire pit on an evening during this beautiful summer can be truly magical. Sip some drinks, roast marshmallows, or hot dogs over an open flame, and create memories for you and your loved ones that will remain forever!