Get Your Garage Back With Organizing Tips
Posted by Benjamin Ehinger on Friday, November 5, 2021 at 11:01 PM
By Benjamin Ehinger / November 5, 2021
Comment
If you have filled every closet and cabinet in your home and are still in need of storage then look no further than your garage. Of course, you will need to declutter and organize the current state of it before adding to it. With planning and storage ideas this is an achievable task.
Get Rid of Stuff
The simplest place to start is to rid your garage of any items that you no longer use. Your next step will be to organize like items together. Place all of the sports equipment together, garden tools together, and scrap wood together. Place items in plastic totes.
Clear containers are optimal but if you already have colored containers then just be sure to label the outside of them. Nothing is more frustrating than pulling down and going through five totes before finding what you need. These containers are also nicer to look at and will protect your belongings from rodents and insects.
Seasonal Items Next
Seasonal items such as Halloween and Christmas decorations can be stored further out of your reach as you only need them at a certain time of the year. Keep things that you use more frequently within reach for easy access. The same goes for the machines that need to be stored on the floor such as tillers and snowblowers.
Hang Things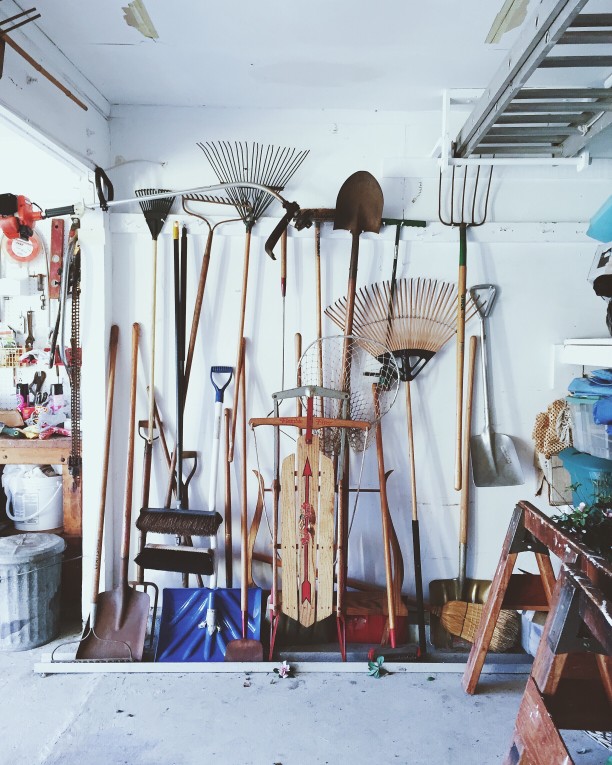 When possible, store as many items on the walls or hanging from the ceiling. The beneficial reason for organizing your garage is to maximize your floor space. You can achieve this with a variety of storage ideas. Consider all of the following, or a combination for what fits your needs:
Closed Cabinets. Cabinets for your garage can be one of the more expensive options but they are very visually pleasing. Another downfall for cabinets is their limited size. They are nice for storing paint cans and smaller items but are not appropriate for large items.
Pegboard. As long as items are not too heavy, pegboard has been a tried and true staple of many garages for generations. It is easy to install and can accommodate the custom placement of your items.
Open Shelving. You can purchase inexpensive, stand-alone shelving or a track system mounted to the wall. Either choice will allow easy visual access to your things. If your shelf is 12-16 inches it should be able to support heavier garage items.
As mentioned, ceiling storage is a viable option. Hang bicycles and ladders with ease from hooks or straps. There are now even pully systems that are available for ceiling storage. Be mindful of garage door clearance if you decide to use this method.
Keep in mind any safety concerns in your garage. Children and pets should not have access to toxic chemicals such as pesticides and lawn fertilizer. Gasoline for your lawnmower should be stored in a safe place as well.
People use their garage for different, multiple reasons. You may just want to be able to park your car in your garage or you may need to create a space for a small woodshop. Whatever your need, be sure to utilize the extra space your garage offers by keeping it clean and organized.