Enjoy the Newly Launched Madison On Tap Craft Beverage Trail
Posted by Benjamin Ehinger on Friday, November 4, 2022 at 3:40 PM
By Benjamin Ehinger / November 4, 2022
Comment
A very exciting tap craft beer trail has been recently launched in Madison, WI. You get a free road map with more than 30 breweries, cideries, and distillers throughout the area. There will be discounts and prizes along the way, too.
While you might think of something like this being all about beer, it's not. Sure, there will be plenty of beer on tap, but there will also be plenty of cocktails, ciders, and other types of drinks. You can enjoy plenty of innovative drinks throughout the city.
Why Should You Sign Up?
The main reasons to sign up are: IT'S FREE, You get discounts, and You can earn prizes.
If you check in at three places, you can get a Madison on Tap Sticker.
Check-in at six spots and get a Madison On Tap Hat.
If you get all the way to 12 check-ins, you will be entered into the Madison Craft Experience Sweepstakes.
This pass gives you all kinds of discounts and things you can enjoy.
How Does the Madison On Tap Craft Beverage Trail Pass Work
After you sign up, it's very simple to use the pass. Since this is a mobile exclusive pass, you will need your smartphone to enjoy the curated trail. Once you sign up, you will have your pass delivered directly to your email and text. You don't need to download an app or anything else. Just save your pass to the home screen of your phone for easy access.
When you visit a venue, all you have to do is show your phone to the staff member to get the discounts offered. As long as your location services are turned on, you can simply hit the Check-in button on your smart device to check in at each location.
Which Madison Venues are Included?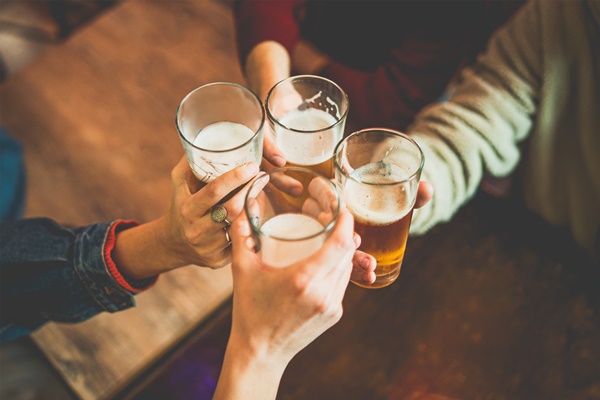 There are many great breweries, distilleries, and cideries within the Madison area included with the Madison On Tap Craft Beverage Trail. The list includes:
Alt Brew - Offering $1 off drafts
Capital Brewery and Bier Garten - Offering $1 off drafts
Dancing Goat Distillery - Get a free bottle of Limousin Rye Whiskey with a purchase6-year-agedr aged whiskey
Delta Beer Lab - $1 off drafts and 10% off to-go beer and merchandise
Doundrins Distilling - BOGO offers
Great Dane Pub & Brewing Company Downtown/East/Fitchburg/Hilldale - BOGO offers
Hidden Cave Cidery - $1 off drafts
Hop Haus Brewing Co. Fitchburg/Verona - BOGO deals
Imaginary the Factory - 20% off bar tab for first use
Octopi Brewing - $1 off drafts
Old Sugar Distillery - BOGO offers
One Barrel Brewing Company - $1 off drafts
Parched Eagle Brewery - BOGO deals
Starkweather Brewing Company - BOGO deals
State Line Distillery - BOGO deals
Sunshine Brewing Company - BOGO deals
The Cider Farm - $1 off drafts
The Lone Girl Brewing Company - BOGO deals
Vintage Brewing Co. Capitol East/Madison West/Sauk Prairie - $1 off drafts
Working Draft Beer Company - BOGO deals
Yahara Bay Distillers - 10% off retail purchases
There are plenty of places to visit on the trail and plenty of discounts to enjoy! Find out more about the trail here.