Biking in and around Madison
Posted by Benjamin Ehinger on Thursday, May 19, 2011 at 5:48 PM
By Benjamin Ehinger / May 19, 2011
Comment
One of my favorite things about living in Madison is biking around town. There's an abundance of bike paths, bike boulevards, bike shops, and all around biking goodness. Since I live close to my office, I often bike to work.Sometimes I even meet up with friends to go bike around Lake Monona or out to the Capitol City trail. On those nicer days I even bike into school for my MBA classes. When I'm feeling like trail riding, I even go mountain biking at CamRock park. Sometimes my wife teases me because I have three bikes, but clearly they are all needed in a place like Madison that encourages people to ride their bicycle.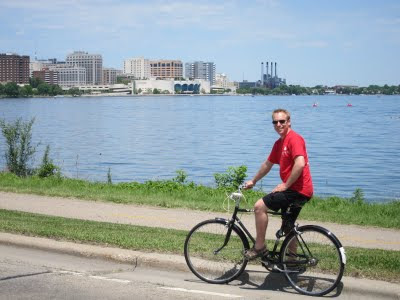 Bike to Work Week
Coming up the week of June 6-11 is Bike to Work Week, put on by the Wisconsin Bike Federation. To kick things off in Madison will be the annual Ride the Drive event on June 5th. "RIDE THE DRIVE is FREE, open-to-the-public, family event, and a whole new way to experience our great city. For this event, we close down the streets to cars and open it up to bikers, walkers, roller bladers, and those out to share in the experience and fun atmosphere. The streets are temporarily closed to cars, but open to people."
Bike Sharing
If you don't own a bike, there's even a few options to use one. TREK was generous enough to donate $1 Million to start a bicycle sharing program called B-Cycle. This program has been successful in Denver and Boulder. Madison will be rolling out 35 stations and 350 bikes in 2011. For those close to Budget Bicycle shop, you can even get a free "Red Bike" to use by simply placing a deposit.
Clients Buy Houses Along Bike Path
This year I have had a few clients that also find biking to be important. One such couple, works at Trek and wanted to live near downtown Madison. We found a perfect little place next to the Arboretum in the Wingra Hill neighborhood; also close to Dudgeon-Monroe and Nakoma. Another couple (we're still looking for the right place), wants to be close enough for a quick bike commute to the UW because they don't have a car. In fact, they don't want a car and prefer to keep their bicycle/pedestrian lifestyle. That's cool. I can appreciate people that don't want to fight morning rush hour traffic on the beltline. I'm one of those people too.
If you want to live along the bike path in Madison, give me a call. We could even bike around for showings in order to find the perfect place. How many Realtors would do that?