Are You Considering a Historic Condo Building in Madison?
Posted by Benjamin Ehinger on Friday, May 22, 2020 at 11:36 AM
By Benjamin Ehinger / May 22, 2020
Comment
After making the decision to buy a condo in Madison, you might be looking at a historic condo building. There are plenty of great options in Madison with plenty of benefits.
When you look at what the Wisconsin Historical Society considers to be historic condo buildings in Madison, there are three choices:
Baskerville Condominiums
Doty School Condos
Das Kronenberg Condominiums
All three offer something a bit different with plenty of wonderful amenities and perks for owners.
Baskerville Condominiums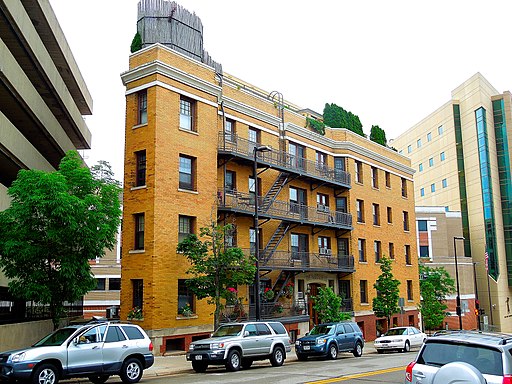 The building dates back to 1914 and offers plenty of history. It's a triangular building with a unique design and found on both the National and the State Registry of Historic Places.
The original building was designed by Robert L. Wright as an apartment building. It was designated by the Madison Landmarks Commission as a landmark in 1992 and later converted to the condo building it is today.
The 22 condos found at The Baskerville offer original maple hardwood flooring. Most units are one bedroom. The location makes these condos very popular since the building is found in the Capital area. Buyers seeking a smaller condo with a great location will love these historic condos in Madison.
Many of the units have balconies and the building offers free laundry facilities. On-site management is provided, along with clean and quiet common areas.
Doty School Condos
The Doty School Condos are some of the most unique in the entire city. This condo building actually dates back more than 100 years. It was renovated and turned into condos in 1983. Before the Doty School Condos were created, the building was home to a school.
The exterior of the building still looks much like a school, but the interior is vastly different. A total of 17 units are found here and they don't hit the market often.
Throughout the interior, you will notice the units feature hardwood flooring, exposed brick, cathedral ceilings, and a loft-style design. High-end kitchens are common and the condos offer between 750 and 1,300 square feet per unit.
Das Kronenberg Condominiums
Another very historic condo building in Madison, Das Kronenberg dates back to 1910. The building was a shoe factory and a warehouse before it was transformed into condo units in 2004.
The Das Kronenberg Condo building is found on the National Register of Historic Places. It houses 43 condo units with plenty of unique features throughout.
The building offers a fitness center and a rooftop terrace. Many units feature exposed brick and the architecture offers plenty of natural light. A guest room is also offered for residents to book for overnight guests and the building is pet-friendly.
Elevated ceilings are found throughout units, along with hardwood floors and stainless steel appliances. Condo units range from 500 to 1,500 square feet in size offering one or two bedrooms.
Finding the right place to call home in Madison isn't always easy. If you're looking for a historic condo, these three choices have plenty to offer.