A Closer Look at the Marquette/Willy Neighborhood in Madison WI
Posted by Benjamin Ehinger on Tuesday, August 22, 2023 at 8:45 AM
By Benjamin Ehinger / August 22, 2023
Comment
The Marquette Neighborhood--commonly known as Willy Street--is a stronghold for organic foods, green issues, and community activism.
Attracting professionals, students, and bohemians alike due to its proximity to the state capitol and the University of Wisconsin-Madison campus as well as high degrees of walkability and bikeability as well as lively commercial districts is what draws professionals, students, and bohemians alike to this neighborhood.
Buying a Home in Marquette/Willy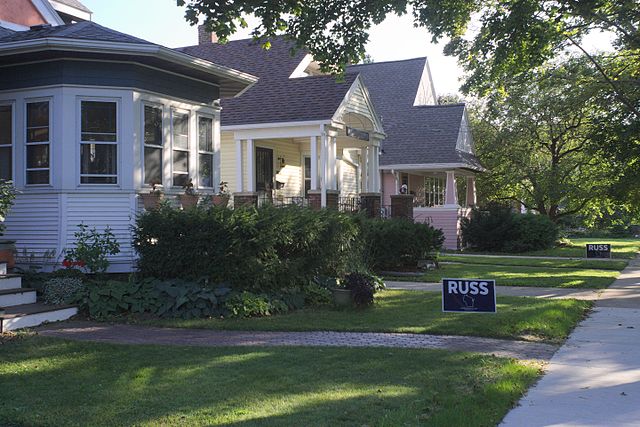 Blokfluiter, CC BY-SA 4.0, via Wikimedia Commons
This neighborhood features homes for sale in Madison WI that showcase turn-of-the-century architecture with old-world craftsmanship. Williamson Street (commonly referred to as "Willy Street") provides shops, restaurants, and bars, giving this hip neighborhood its bohemian appeal.
Marquette/Willy Street residents take great pride in their diverse heritage. Formed the oldest community association in Chicago and hosted several community-focused events such as Marquette Waterfront Festival, Orton Park Festival, and Willy Street Fair - among many others!
The historic Marquette/Willy Street neighborhood features an eclectic range of 19th-century architectural styles, such as Greek Revival, Italianate, Late Picturesque, and Craftsman Bungalow homes.
Two historic districts - Third Lake Ridge and Marquette Bungalow Historic District - exist to preserve this neighborhood's cultural legacy, with generous multifamily income properties providing economic diversity in this highly desirable neighborhood. Due to its bustling commercial district, walkability, and bikeability it has quickly become one of the city's most sought-after neighborhoods; thus making it highly sought-after!
Living in Marquette/Willy
Williamson-Marquette (or Willy Street) neighborhood boasts an exciting mix of restaurants, cafes, music venues, and locally-owned shops that come together in its unique character on Madison's east side.
Residents have successfully kept national chains out to maintain the distinct personality of this community-oriented area; startup incubators occupy old factories providing homegrown entrepreneurial energy that supports events like chili dinners, Marquette Waterfront Festival, and other signature music festivals; residents also support Willy Street Cooperative or attend local CSAs and farmers markets for fresh, healthy produce!
The area offers a range of housing options, ranging from grand Victorian lakefront homes to newer condos and two-flats to 100-year-old craftsman bungalows. To preserve its early history, several historic districts such as Third Lake Ridge and Marquette Bungalow Historic District have been established - these destinations draw everyone from international graduate students, young families, and Madison natives alike.
Festivals in Marquette/Willy
Marquette/Willy Street neighborhood in Madison is one of the oldest, with turn-of-the-century homes and beautiful craftsmanship dating back to earlier this century. Family-friendly, this neighborhood also hosts numerous local festivals throughout summertime to foster its community spirit and celebrate its rich heritage.
Marquette/Willy is home to some of Madison's finest restaurants, cafes, and live music venues - as well as residents who work tirelessly to keep national chains out while creating an inclusive community with locally owned businesses and operating organizations.
Not only can residents enjoy delicious local restaurants and shopping in Marquette, there are also annual festivals like Waterfront Festival, La Fete de Marquette, Orton Park Festival, and Willy Street Fair to look forward to each year.
Check the event calendar for full details. The Marquette Neighborhood Association promotes family fun and civic engagement through events like these popular community traditions like these events; in addition, their organization serves as a powerful advocate for policies and positions on behalf of the Marquette neighborhood within the wider city community.
Dining in Marquette/Willy
Marquette/Willy neighborhood's historic housing stock reflects its longstanding commitment to economic diversity. Ranging from grand Victorian lakefront homes and single-family Queen Annes to modest workers' cottages and 2-flats, this near-east Madison neighborhood provides an array of housing choices.
Willy Street is a local favorite. This lively pedestrian/bike-friendly district features locally-owned shops, restaurants, and entertainment establishments, as well as its boho/hippie/green vibe, has earned it several nicknames from residents.
Its proximity to both downtown and UW campus, high levels of walkability and bike-ability, and eclectic commercial district make this neighborhood popular with young professionals, students, and families. If more space and privacy are desired then many desirable single-family homes exist here as well.