A Closer Look at Living in Oregon, Wisconsin
Posted by Benjamin Ehinger on Tuesday, August 8, 2023 at 3:32 AM
By Benjamin Ehinger / August 8, 2023
Comment
Oregon lies to the south of Madison and boasts a small-town charm with an easy commute. Its close-knit community and affordable housing prices make Oregon an attractive option for families looking for their new home.
Buying a Home in Oregon
Oregon is an ideal state for families. It boasts strong communities and an outstanding school system. From family-oriented neighborhoods to bustling urban lifestyles, Oregon provides all this and more - plus there are several affordable mortgage programs specifically targeted towards first-time buyers!
The Oregon real estate market is highly competitive, so be prepared to submit an offer with an eye-catching price and flexibility on your list of must-have features. On average, buyers typically spend eight weeks house hunting before making an offer on any nine homes on average.
When purchasing a home in Oregon, it's wise to work with an experienced real estate agent. They will assist in finding houses within your budget while also guiding the closing process. Lenders usually provide buyers with a Good Faith Estimate which details estimated loan costs but excludes fees or closing costs that will be due at closing time.
Living in Oregon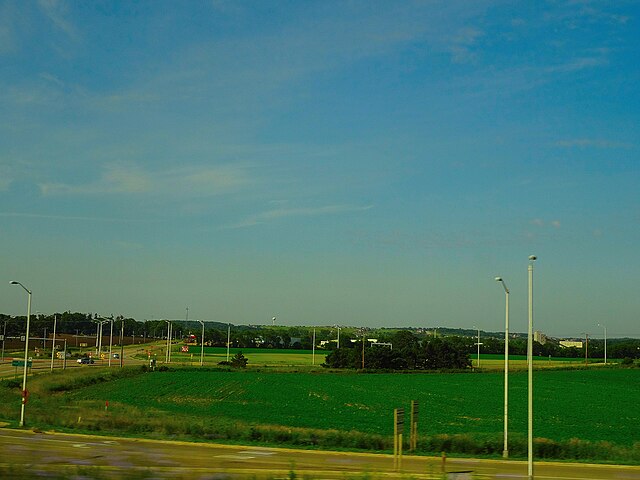 Corey Coyle, CC BY 3.0, via Wikimedia Commons
Oregon, WI boasts an estimated median household income of $86,039. This indicates that residents in Oregon, WI enjoy higher than average income levels compared to national standards.
Healthcare costs in Oregon, Wisconsin are substantially below the national average and out-of-pocket healthcare expenses in Oregon are also lower than in most other states.
Oregon, Wisconsin's top three industries that employ over 1,000 residents include Health Care & Social Assistance, Retail Trade, and Professional Scientific & Technical Services - these three employ over 1,000 residents combined!
Similarly, 95% of its population has attained at least a high school diploma; those with college degrees often find employment in Business Services, Education, Health Professions, or Science fields. English remains the main language spoken here.
Buying a Home in Dane County
Dane County lies just south of Madison and comprises 60 cities, villages, and towns that provide residents with both metropolitan conveniences and small-town comforts. Boasting world-class higher learning institutions such as UW-Madison and Madison College as well as stunning lakes and parks for recreation purposes, there is something special here for everyone in Dane County.
Dane County rural properties for sale tend to boast large acreages with woods, pastures, or ponds and high-end amenities like soaking tubs, gourmet kitchens, and huge decks. There are also lakefront properties available - Lake Mendota, Lake Monona, and Lake Waubesa are among those of note in Dane County.
Dane County may have slightly above-average living costs, yet with world-renowned universities, breathtaking landscapes, and plenty of outdoor recreational activities it remains an attractive place to call home.
Buying a Home in Wisconsin
The purchase of a home can be an expansive financial commitment that affects all aspects of life. Gathering all relevant data to make the best decision possible based on current and future needs is essential. This may involve reviewing things such as pricing trends, property taxes, and neighborhood characteristics as well as making a list of features and amenities which might help narrow down options.
Oregon Village, just a short drive from Madison, has an idyllic small-town atmosphere. Residents enjoy many parks and green spaces such as Lerner Conservation, Kiser Park, Bethel Greenacre Park, Scott Street Park, and Thomson Park.
If you're considering a new home in the Madison area, Oregon might be the right community for you.