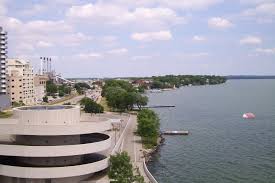 Monona Terrace is one of the hottest places for events in the summer. With concerts, dance events and so much more, this section of Madison provides plenty to enjoy. In addition, it's one of the best places for great views of Lake Monona.
As Madison's premier convention center, Monona Terrace often holds conferences and meetings. However, there are many special events held here throughout the year. The facility was also designed by Frank Lloyd Wright and offers guided tours and a rooftop terrace for dining and drinking throughout the summer.
Upcoming Events at Monona Terrace
From Yoga to design events, there's always something going on at Monona Terrace. Below is a quick look at some of the best events coming this summer.
Go Red for Women Luncheon - May 5th from 10:30am to 1:30pm
A noble event helping to support living a healthier lifestyle, the Go Red for Women luncheon will help unite the community. It's just one of the Many Go Red for Women events held throughout Madison, Wisconsin each year.
Pokémon Regional Competition & Ohana-Con - June 2nd to 4th from 3pm to 9pm

If you love Pokémon, this family-friendly cosplay event is perfect for you. It's one of the largest annual Pokémon Regional Championships in the country with all types of gaming enthusiasts on hand.